okay, remember i posted that

HyunJoong leader is going to be cast in Kimi wa Petto? then after a few days i've posted it, then there's news saying there's no such thing? saying that the news was a false news???
well, today soompi posted something like this again. take a look. i'm still not sure whether is this true or not, i will be back with their latest updates. =)


credits to

dramabeans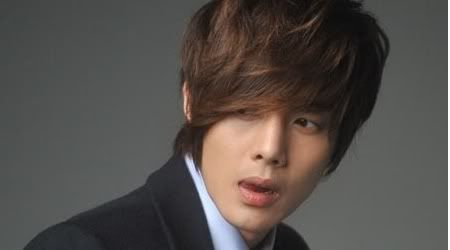 I say this without snarkiness (a quality I think is growing far too overrated these days anyway): One would have thought that idol singer Kim Hyun-joong's stiff, uncomfortable acting debut in Boys Before Flowers earlier this year would have convinced people to STOP casting him in high-profile projects, but alas 'tis not the case.
He has just been cast as the lead in the film adaptation of popular Japanese manhwa-turned-drama Kimi wa petto, or You're My Pet. The j-dorama aired in 2003 on TBS.
Like Boys Before Flowers, the Japanese original starred the popular idol-actor Matsumoto Jun (opposite Koyuki). The romantic drama unfolds as a woman fashion-magazine editor who is perfect in looks and talents comes to live with a good-looking young man.
She and the man, who is first taken in and affectionately called her "pet," gradually fall in love
. The female lead is still currently casting.
The contract has yet to be finalized, according to Kim's management, but should be made official soon. The film will begin shooting as soon as the casting is complete, and aims for a release date next year.

(I really thought Kim Hyun-joong would go the way of Se7en, as in, he'd realize that he was sorely limited in the acting arena and focus on his music. Coupled with his seemingly indifferent attitude toward acting in the first place — he had to be persuaded to take the BBF role by management who were eager to heighten his name recognition — I figured he'd fade from acting, not be cast as the lead in another high-profile remake. Again, I mean this without sarcasm, but I sincerely hope he hies himself to some intensive acting training if he wants a career in the field.)
Via OSEN